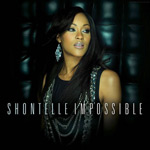 Shontelle recently told DigitalSpy that she was "living" the heartbreak-filled lyrics of 'Impossible' and it's safe to presume she's not alone. A year and a half since the likeable-but-still-slightly-aggravating 'T-Shirt' hit the top ten, the Bajan songbird is back with a more mature sound – one that's already paid off, as this Whitney-sized tale of heartbreak has become her biggest hit yet across the pond.
It's not tricky to see why, with everyone involved in 'Impossible' delivering like they've got Sue Sylvester's protein shake-scented breath warming their necks. Arnthor Birgisson's Stargate-style production has a very appealingly restrained, Ina Wroldsen's lyrics are blunt and utterly relatable, and Shontelle gives her strongest vocal performance yet without ever overdoing it. The result? A treat for everyone except the peeps at Greenpeace, who might not approve of a song that requires at least two Kleenex mansize every time you play it.
Impossible is due to release on UK Amazon & iTunes, September 9th.
(rated 5 stars)